REGISTRATION CLOSES APRIL 21 at Midnight!
There is NO Race Day Registration for this years event!
RACE DAY: Saturday, April 22nd 2023 at 7:00 AM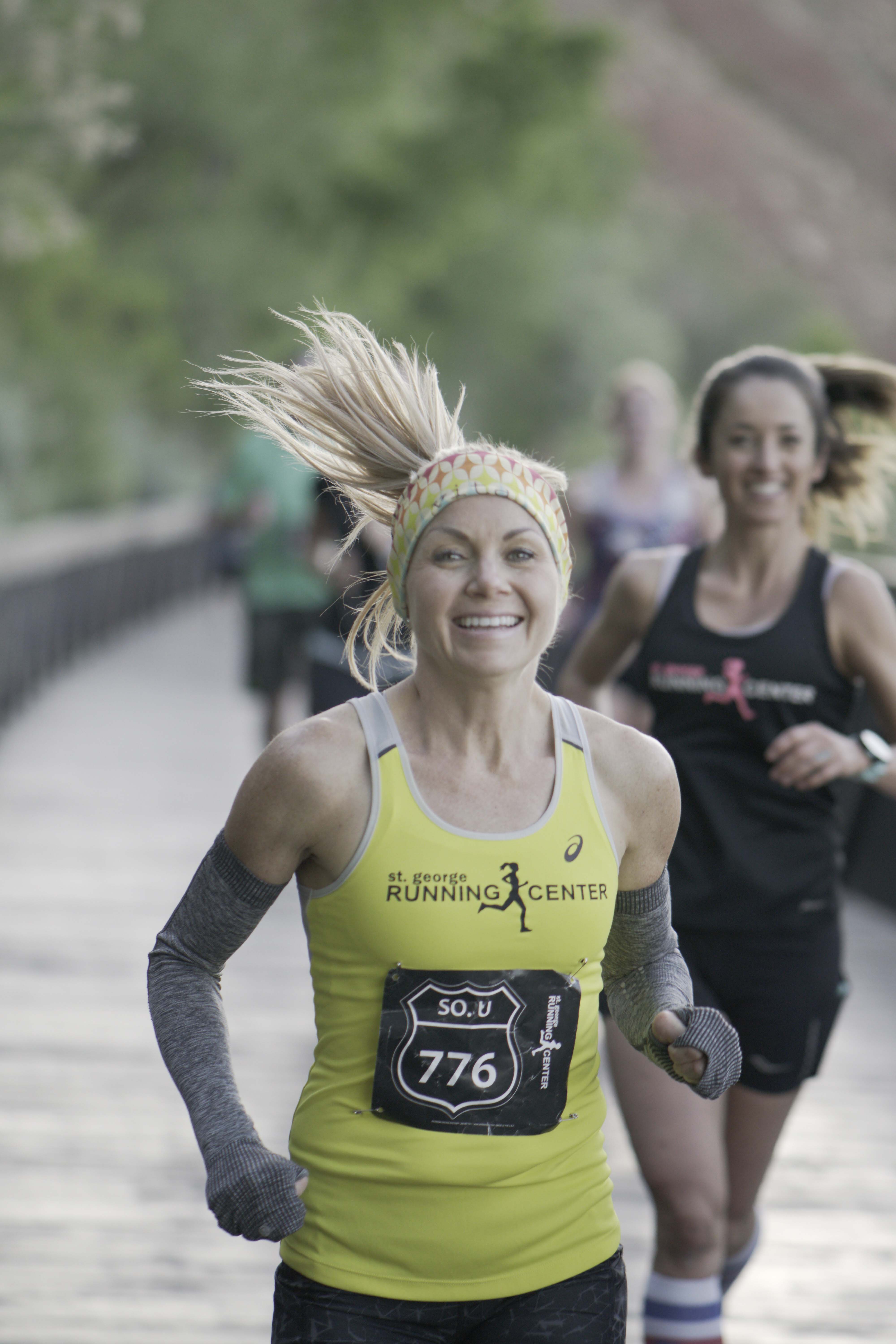 Start: Highland Park, Washington, UT
End: Bloomington Park, St. George, UT
Brief Description: The Southern Utah Half Marathon is a beautiful route starting at Highland Park in Washington,UT offering amazing views of the sun rising over Zions National Park in the distance. The race will proceed quickly downhill through City of Washington to the scenic Virgin River Trail.  This paved trail offers a gradual decline grade for the remaining 9 miles of the race.
Packet Pick-up: Packet Pick-up will be at the St George Running center (2736 E Red Cliffs Dr #5, St George Utah 84790) on Thursday 4/20 from 2-7pm and also Friday 4/21 from 2-7pm.
The St. George Running Center will also be open during packet pick-up so you are welcome to come in and shop.
IMPORTANT: There will be NO RACE DAY PACKET PICK-UP.
Starting Line: The starting line will be at the top of Highland Pkwy, about 200 yards above the homes on Crown King Ave.  There will also be porta potties and pre-race water at the starting line, and will be staged in the parking area on the North end of the park.
Race participants will be bused from the finish line at Bloomington Park, St. George to the starting line at Highland Park, Washington . Bus drop off and turn around will take place where Highland Pkwy meets Crown King Ave right next to the lower parking area at Highland Park.
Race Start & Pacers:
Race Start promptly at 7am.
American Flyers Race Pacers will be at the start to help with your race pace objectives!  Seed yourselves according the American Flyers pace signs.
FINISH LINE: The race will finish at the Bloomington Park in St. George.  As runners come across the Man of War bridge they will take an immediate left onto the walkway.  As you come into the finish line volunteers will hand you your medal and refreshments.  Please remember to keep your distance as you rest on the grass from your event.
Awards Ceremony:  There will overall awards for the top 5 men and women.  Top three age group awards will be provide. Categories are listed below.
Awards Ceremony will be at approximately 10am.
AID STATIONS:  Aid stations at miles: 2.25,  4,  6,  8.5,  10.5,  11.75.  Each aid station will provide the runners with water and Gatorade.  Aid Stations 6 & 10.5 will also offer GU. Aid Stations 4, 6 and 10.5 will also have porta potties.   As you come into the aid stations please do your best to keep moving and maintain a social distance.
PARKING:  Parking will be available at the Bloomington Park and Bloomington Elementary School. No Parking on Man of War rd.  There is also NO parking at Highland Park, where the event start is located. Please ride the shuttles.
TRANSPORTATION to Start:  Buses will leave to take runners from Bloomington Park between 5:45 am and 6:15am to take you to the start line at Highland Park in Washington.  
Be sure to arrive early to Bloomington Park to ride the shuttle to the race start.  Last year, because of the Pandemic, we gave the option to drop off participants at the start.  This year, we are asking everyone join us on the shuttles.  Highland Park is small and cannot accommodate many vehicles. The road to Highland Park will be close to traffic from 6:30am-7:15am, so you may as well ride the shuttle. Masks are optional.
If you still need someone else drop you off at the starting line (Map to starting line at Highland Park), you may, but it is discouraged. Just make sure you are dropped off by 6:30 am and avoid the buses. If you arrive after 6:30 am you will not be able to get into the neighborhood and will need to walk/run up from Telegraph Dr. which is about a mile to the start.  There will be NO PARKING in the neighborhood or along Highland Dr. 
ADDITIONAL INFORMATION:
All participants receive a sweet tri-blend shirt
Buses will provide transportation from Finish Line, Bloomington Park to the starting line
Finisher medals will be given to those who complete the course in less than 4:00 hours
Awards to the top 3 in each age division in the half marathon
Top 5 men and women awards and gift cards to the St. George Running Center.
Check out the Southern Utah Half Marathon Course Map
Categories:
Age: 14 & under, 15-18, 19-24, 25-29, 30-34, 35-39, 40-44, 45-49, 50-54, 55-59, 60-64, 65-69 and 70 & Over
Weight: Clydesdale (Men over 200 pounds) and Athena (Women over 150 pounds)